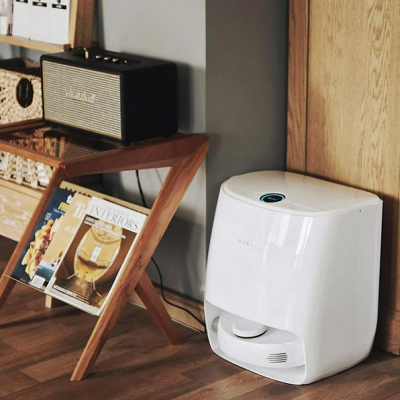 Who we are
Put simply, we're Narwal, and we make the world's only self-cleaning vacuum and mop robot.
But that doesn't mean our story is simple..
"In 2015 I had just graduated with a master's degree from. I sent a resume out to Mr. Li, who then asked me to come out and meet him. I had wanted to meet him for a very long time." That serendipitous opportunity changed the course of the founder's life. And he is the CEO of Narwal today. He had won awards from middle school to graduate school and had a gold medal from the 2006 International Youth Olympic Robotics competition. Mr. Li was a professor of the Hong Kong University of Science & Technology, who himself had developed international brands such as DJI and xbotpark.
Trapped by the possibility of project realization and market volume, the founder's venture was once in a bottleneck. Both capital and manpower were under great pressure. By coincidence, a family dinner changed this dilemma. Looking at the founder's sad face, the founder's father jokingly said, "It's too tiring to bend over all the time to mop the floor! Your mother and I are both getting old, with back problems from time to time and inflexible knees. We want to keep the house clean, but it's hard for old people to do chores every day! How about you young people make a mopping robot that can wash mops!" The idea clicked with the founders: yes! In a market situation littered with floor-sweeping robots, inventing a robot that can both vacuum and mop the floor is just too cool!
Since then, Narwal was founded!
After deciding on a product direction in 2016, Narwal began its R&D and went through 6 product iterations in the span of three years. Then we realized how much we needed to grow, so the 5 original Narwal employees grew to nearly 1,000. Here's what our journey has looked like:
Company Timeline
12/2015 - Pre-research of technical solutions to determine product positioning.
02/2016 - Narwal team increases to 5 people, begins testing mopping solutions.
04/2016 - Narwal adds its 6th employee, builds the first sweeping and mopping robot prototype, circuit design.
10/2016 - 2nd generation prototype and base station design, more processing and testing.
12/2016 - Team increased to 14 people, testing of 3rd generation prototype begins.
02/2017 - Team increased to 17 people, 4th generation robot further refined and tested.
10/2017 - Narwal now employees 30 people to test and shape the 6th generation prototype.
International Awards and Media Endorsements
11/2019 - Awarded a 2020 CES Innovation award
02/2020 - German Innovation Award
03/2020 - 2020 Reddot Award winner
04/2020 - Edison Award winner
04/2020 - Plus X Award winner
11/2020 - TIME's 2020 Best Inventions
Narwal's CEO and founder, says Narwal was created not for commercial gain at the beginning, but to find a way to change people's lives by freeing them to do what they love and spend more time with the people they love. Now he and everyone who has engineered, tested and marketed the T10 believes the world's first self-cleaning vacuum and mop robot can do just that.
And our responsibility to our supporters doesn't end when a T10 leaves the warehouse. We offer world-class service and technical support that's second to none and a warranty that takes the worry out of purchasing. We want you to have the best experience, and our commitment is to go above and beyond to make it happen.
---