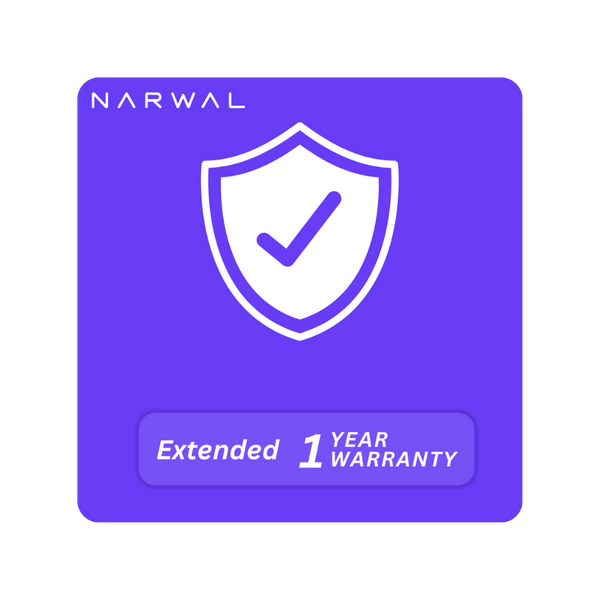 Narwal 1-Year Extended Warranty Plan
Sale price

C$121.00

Regular price

Unit price

Translation missing: en.accessibility.unit_price_separator
You can only purchase the Extended Warranty Plan once on the same product. Multiple purchases are not allowed.

Within the extended warranty period, in case of irreversible destruction, lack of materials, and other special circumstances confirmed by Narwal, Narwal will replace the machine with a refurbished product of the same model or of equal value, which will enjoy the remaining extended warranty period.
The Extended Warranty Plan, when purchased separately, is not eligible for a refund.
After your purchase, you will receive a confirmation email to activate your warranty service from support@narwal.com.
You can purchase the Plan within three months of your Product purchase date. To activate the Plan, you are advised to contact the Narwal After-Sales Center and provide the serial number of your Product. The extended warranty service has a one-year duration ("Extended Warranty Period") from the date of expiration of Narwal's manufacturer warranty. If you have found a defect in materials and workmanship in the Product during the Extended Warranty Period, please contact us. Narwal will be responsible for any repair or replacement of the Product using refurbished parts or products, and the shipping fee will be borne by Narwal.
After purchase of the Plan, if your Product is refunded in accordance with the applicable return and refund terms between you and Narwal or Narwal's authorized retailers/distributors, you can apply for a full refund of the original purchase price of this Plan from the Narwal After-Sales Center. The Extended Warranty Period will not be extended or updated or otherwise affected by subsequent repair, replacement or resale of the Product.
The extended warranty service is only available in the country where the Product was originally purchased. If you seek extended warranty service in a country that is not the country of purchase, you will be required to return the product to Narwal or our authorized service company located in the country of purchase, and be responsible for shipping (to and from your location to the country of purchase), all custom duties and other associated charges.
The extended warranty service is not available if the defect(s) relate to:
any Product(s) purchased from unauthorized distributors or retailers,
any extended warranty service(s) purchased other than narwal.com,
normal wear and tear (including, without limitation, wear and tear of batteries),
willful or deliberate damage, neglect or negligence,
non-compliance with the Product instructions,
damage caused by accident or force majeure (such as fire, water, lightning or other acts of nature),
extreme or external causes beyond our reasonable control including, but not limited to, breakdowns, fluctuations, or interruptions in electric power, ISP (internet service provider) service, or wireless networks,
weak and/or inconsistent wireless signal strength in your home,
use of spare parts or other replacement items (including consumables) which are not provided or recommended by Narwal,
any alteration or modification to the Product which has been carried out by you or a third party not authorized by Narwal,
used in non-household settings, including but not limited to: for cleaning white ash, sand, dust, etc; used for cleaning the business environment; used for cleaning environments with special adsorption of microparticles such as chemicals and metals.
IMPORTANT
Where End-users ("You") have originally purchased Narwal products ("Product") from Narwal ("We", "Our", "Us") or our authorized distributors or retailers, this Extended Warranty Plan (the "Plan") is available for your purchase on narwal.com within three months of your Product purchase date. Please note that this Plan is only available in the country where the Product was originally purchased. Narwal is the sole provider of this Plan and Narwal has not authorized any third party to sell the extended warranty service. Please pay close attention when making any purchase. If you have purchased any extended warranty service through websites or stores other than narwal.com, Narwal will not be responsible for providing any service or bearing any losses you may incur.
Any updates to this Plan will be posted on narwal.com and we encourage you to periodically review this Plan to ensure you are familiar with the most current version. If there is any inconsistency between this Plan on narwal.com and any other documents included with or relating to Narwal products, the latest version of this Plan on narwal.com shall govern.