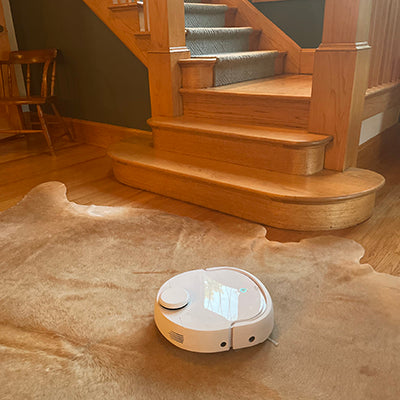 My family and I just recently purchased and moved into our dream home. It's a 100 year old, three story, 5,000 square foot home with a lot of old world charm. Our home still has its original leaded glass windows, chandeliers and 3,000 feet of hardwood floors.
The one question or doubt that I had on my mind when we were considering purchasing the home was, "When was I going to have the time to clean it". My husband and I both have full-time jobs; a 2 year old, a dog and a cat so to say our floors tend to get a bit "hairy" would be an understatement. I knew I needed help when it came to cleaning the hardwood floors without damaging them. That's when I started my search for a robot.
I opened my google search and that's when I found Narwal, or Dustin, as we have affectionately named him.
What attracted me to Narwal was the fact that it not only vacuumed up all the dirt and pet hair that accumulates daily, but it also had a self-cleaning mop as well for those stuck on messes. I also love the fact that Narwal can vacuum my rugs, but not mop over them by using the "no-go" zone feature in the app. The app is a total game changer for the fact that I can "quick clean" any room in the house from anywhere, with a simple push of a button.
Our Narwal, Dustin, is another member of our family. My two year old loves to follow him around and asks him very politely but urgently to vacuum up the goldfish cracker mess in her playroom before mom sees.
To say that Dustin saved my sanity and my beautiful floors would be an understatement! Thank you Narwal for inventing such a great product for busy animal loving families!
By Demi Rodocker
---